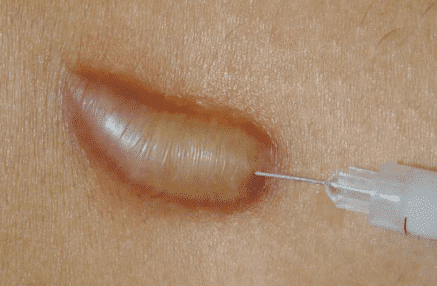 What is a keloid?
Keloids are a type of scar tissue. After an injury to the skin, the fibrous tissue which are also known as scar tissue grows over the wound to protect the underlying structures and to repair the wound.

In certain cases this scar tissue grows uncontrollably forming smooth but hard growths which are called keloids. Keloids have a predisposition to be larger than the actual wound size. The common sites where keloids form are the shoulders, chest area, cheeks and the earlobes. It is not confined to these areas and can be formed on any part of the skin. Keloids are also referred to as scars which have to stop button. They grow continuously. Even though they do not affect your health per se they are quite an eye sore and disturbs the cosmetic appearance of the skin.

Keloids may appear pink or purplish in colour. Even though its smooth on the surface it has an irregular appearance and unlike any other scars it does not disappear over time.
FAQ & Questions.
Here are some Frequently Asked Questions by you, answered by our doctors.