Skin Consultation & Treatment @ Nexus Clinic
 Nexus Clinic, a premier aesthetic clinic was established in the year 2001 is located in the city centre, Kuala Lumpur.  Nexus Clinic serve their clients by prodiving confidential and personalized aesthetic services to local and regional markets.
Thanks to Nexus Clinic, I was invited to their clinic to try out their services. I have never done any sort of aesthetic treatments before so I was a little nervous but still pretty calm at the same time as I felt that I will be in the good hands of the doctors there.
A quick snap shot of my bare face before putting on BB cream.
As you can see, the problematic areas of my skin is usually the T-Zone due to work stress and late nights. Another factor is because I went for facial previously (not going to mention names) where it became worse after the second session, which definitely aggravated my skin problems. The first facial session that I went for was great but heading over for the second time was a mistake. Never trust places that gives cheap deals on Facebook 🙁
Back to the topic, my appointment was in the morning at Nexus Clinic. Sat at the waiting area for about 5 minutes as the receptionist were busy at the moment. Joan came down to meet me shortly and she is very friendly. We went into the consultation room to discuss on what type of services that they provide before heading over to the next room to see the doctor.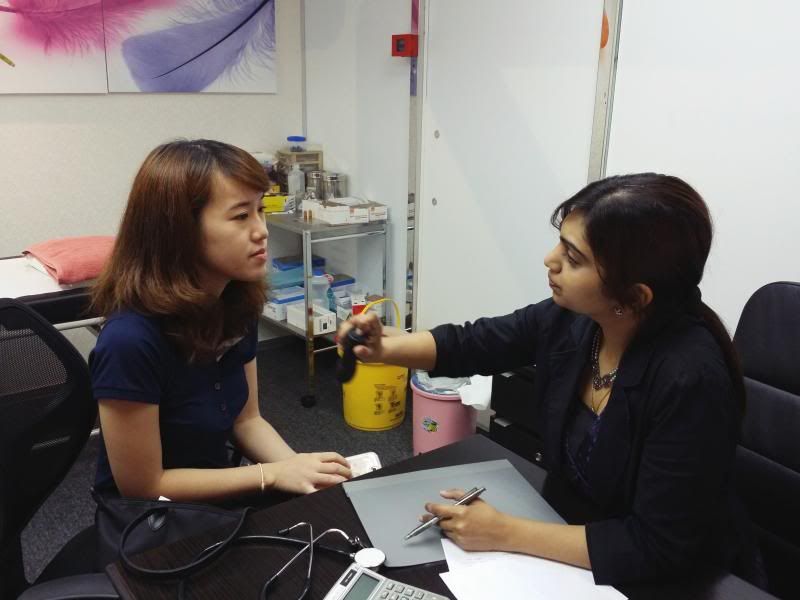 Consulting the doctor about my concerns.
At first, I was thinking about getting an eye treatment since my main concern is always my eye bags. However, the doctor said mine wasn't so bad so she suggested for me to do skin peeling treatment to balance my skin problems as my oil glands are quite active, thus making my skin more oily and getting breakouts.
I was also surprised when the doctor asked if I have problems with acne on my back as well because she said that my face has those small pimples which is common for it to breakout at the back and chest area as well. This is the reason why I rarely wear shirts that expose the back. So, she suggested for me to proceed with the skin peel for my back as well.
The beauty consultant at Nexus Clinic cleansing my face before getting started with the treatment.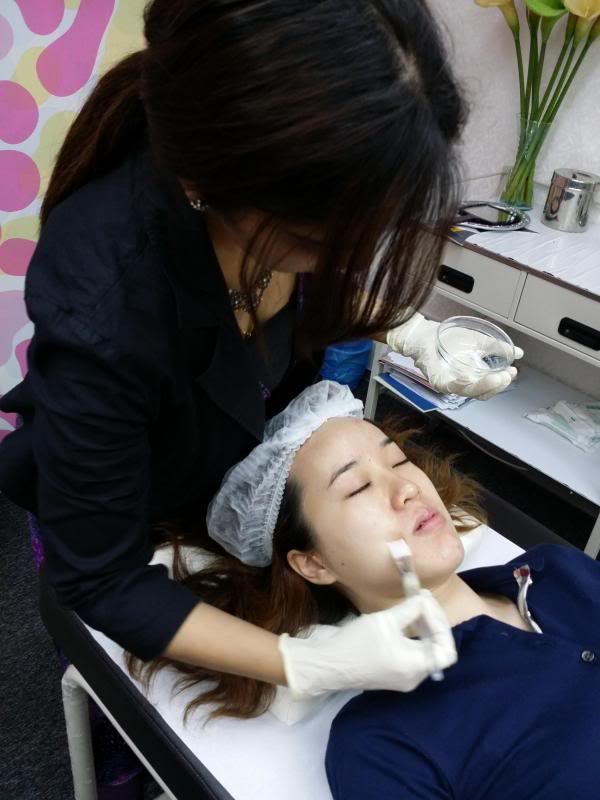 The doctor applying the TCA peel onto my skin.
What is skin peel?
Skin peel that Nexus Clinic uses is called tri-chloroacetic acid (TCA) which is one of the original skin rejuvenation peels. It contains ingredients like glycolic acid, latic acid, salicylic acid and so on to help the effects of peeling.
Usually for the face it is recommended to apply 2 to 4 layers of peel. It all depends on your skin type and condition of your skin. The doctor was pointing out to me on some of the 'white frosting' formed on my skin, which means that no further layer of peel will be added on the to that area of the skin as it is already sensitive.
As the layer of skin peel is applied, redness appears on the problematic areas of the skin as time passes. TCA peels have a burning sensation when applied onto the skin. How I would describe it, is that it is the feeling that you get when accidentally rubbing chili padi onto your skin. Since it is mild acid, there is also the odor which I did not get used to at first due to the smell but it will go off after a few minutes.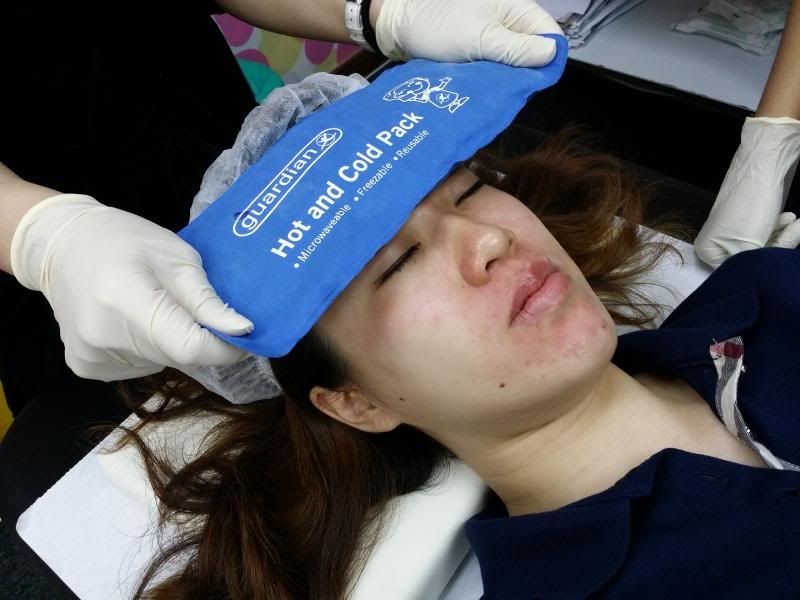 After about 15-20 minutes, a cold pack is pressed onto the skin to relieve and cool down the skin. The burning sensation literally stopped after that! The acid will not be washed out as it needs to be left on the skin for at least 2 to 3 hours for the peel to fully work. Sunblock was applied to complete the treatment as skin is more sensitive after the peel.
Moving on to the back, the back acne has been around for a long time since my teenage years. Tried mild soap and so many other things but it didn't work. Especially during the hot weather, the back acne tends to get worse with redness and puss 🙁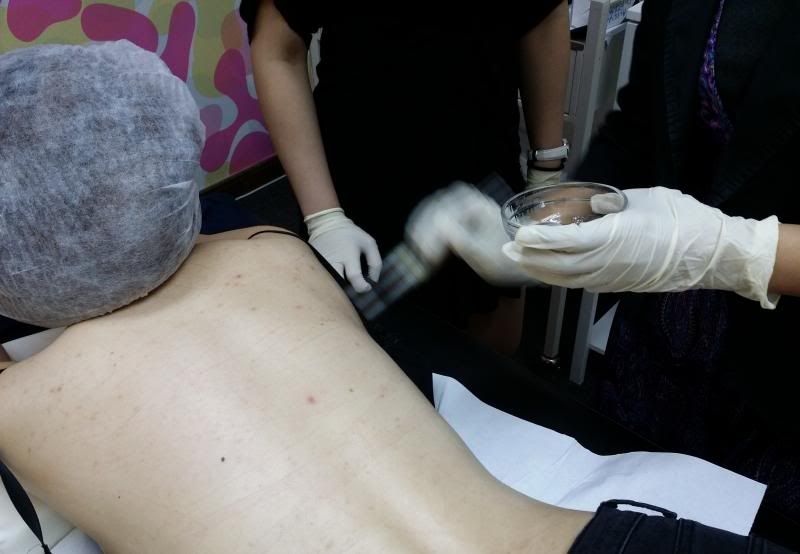 Since the skin on the body is thicker compared to the face, the doctor applied about 5 to 6 layers of TCA onto my skin. However, the reaction wasn't immediate as I did not feel any burning sensation of itchiness. The doctor explained it might be a delayed reaction as it always depends on the individual's skin type. I only felt the burning sensation after I left the clinic where I was on the road, halfway home. Therefore, it is always best to get the cold pack applied even if you don't feel anything during the treatment.
Frosting on the back

An antibiotic called Doxycycline was also prescribed to me to help treat my body acne.

The doctor also advised me to purchase the Acne-Aid soap from pharmacies to help with the back ance problem. This soap can also be used on the face. I bought it at Caring Pharmacy at RM12.90.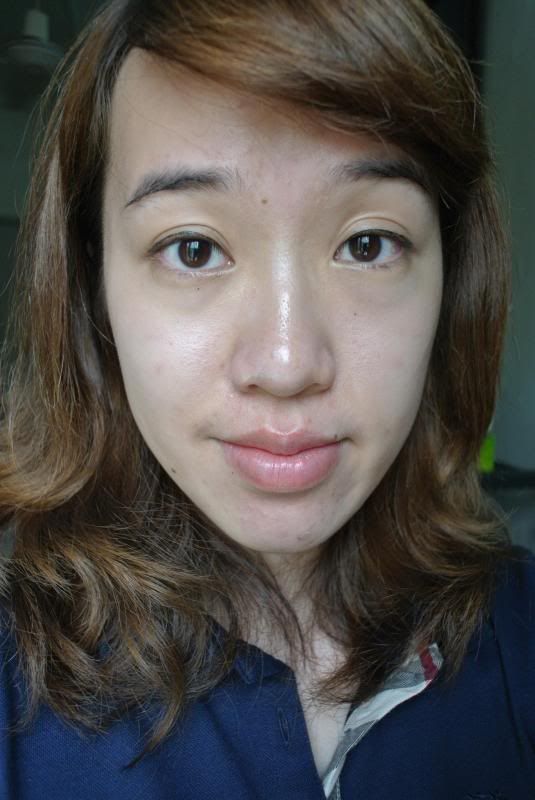 Skin peel usually takes about 3-14 days to complete its peeling cycle. During this period, it is very important to take care of the skin besides the usual drink more water and get enough rest etc. The doctor said to avoid using any whitening products or products that contain active ingredients such as retinol, glycolic acids, perfumes and colours because the skin is very sensitive after the peeling. Sunscreen is very important to keep the sun exposure to minimum. I learned that sunscreen only lasts for a maximum of 3 hours, so it is important to reapply if you are outdoors most of the time.
After I went home, I can already see a layer of shine formed onto my face, where it is the skin tightening and eventually started to flake after a couple of days. I will definitely update more on my skin progress soon. Stay tuned for more!
Skin Peel Progress + Second Treatment @ Nexus Clinic
A continuation from my previous post on Nexus Clinic, here's an update on my skin condition after getting the skin peel treatment done.
During the first few days, my skin was dry and the skin felt tighter as it is covered by the layer of dead skin. An example that I would give it that the skin feel tight as though when you are applying a layer of peel off masks.
The skin under my eye was slightly darker, as it is the old skin which is preparing to peel. It seriously look as though I had sunburn at that particular area though xD There is also slight flaking formed on the corners of my nose during day 3 onwards.
As the days pass, the flaking is more apparent and skin will start to peel. Fortunately, the peeling wasn't that bad so I could go out of the house without worry.
After day 3, you can start to put moisturizer to balance your skin moisture level or aloe vera gel to help with the slight redness and peeling. Of course, it is important to put sunblock everyday and reapply when necessary as the skin is very sensitive to the sun at this stage.
I wouldn't advise to put on any foundation or makeup when you skin is peeling or flaking as it will make the dead skin even more apparent. I would just apply on my eye liner, under eye concealer and lipstick 😉

The darkened area of my skin is finally peeled off!

After about 2 weeks, results can be seen.
Pimple scars is lighter and some of the pimples are easily removed when pressed. There is still some redness on my skin because I did a scrub using my Olay Pro X the night before. Shouldn't have done that, but the weather was really hot and I felt the my pores were clogged.
Face and body skin is different in terms of thickness, which is why the my back hardly flake or peel at all. What it did was reduced the redness and lightened some of the scars. My mom commented that my back acne got better with the skin peel treatment. I also used the Acne Aid soap which was mentioned in my previous post.
After 2 weeks, I headed back to Nexus Clinic for my follow up consultation. Unfortunately, my previous doctor was on emergency leave so another one attended to me. She really friendly as well and attended to my queries.
I explained about the improvement I see after the skin peel treatment and also mentioned about my concern about the clogged pores as I felt that my skin reacted to the hot weather and also the sun block that I used. The doctor pointed out to me it is most probably related to the ingredients of the sun block that I was using. She advised me to use products which are non-comedogenic, where it will not clogged pores. Products that are non-comedogenic is good for sensitive or acne prone skin as the larger particles in the ingredient will not block the pores.
A second session of skin peel is done, but this time with a stronger dose as skin peel needs to be done various time to see improvements. It is not a magical one off solution as the result of the TCA peel depends on each individual's skin type and condition.
Even though with a stronger dose, my skin reaction wasn't as red compared to my first time experience as my skin got used to it already. However, the sting was a little more painful on my T-Zone compared to the previous treatment but still bearable. Must be the clogged pores that caused it.
As usual, cold compressor is placed on the skin to reduce the burning sensation and the sting.
The doctor said there are pigmentation on my back as well, so she applied a mix of glycolic acid and TCA peel to improve the condition of my back acne.
After arriving home, I can see a layer of white frosting from the TCA peel on my skin due to the stronger dose of TCA peel, which was not visible during my first treatment.
I remember using the Neutrogena sunblock a couple of years back which worked well on my skin. So, I headed over to the pharmacy and repurchased one. Coincidentally, it said non-comedogenic at the back!
Our blogger, Li Chuen was invited to experience a Skin Peel treatment for her face and back, as our doctor wants to improve her acne problem. She blog about her experience while doing the treatment and click the link below to read more on her blog!
Get A Free Consultation
Drop us a message and we will be more than happy to schedule you for a consultation with our esteemed doctors or alternatively we will send you a quick quote for the desired treatment.
Request A Skype Consultation
Need a quick face to face consultation but you're just too far away? No problem! Provide us with your basic details and Skype ID and you will receive an invitation from us and we can proceed from there.